Bamboo is a natural material that is very ecologically friendly. It is a renewable resource that grows to full maturity within 3 to 5 years, as opposed to the 20 or more years that it takes hardwood trees to grow to maturity. Using natural materials is a popular trend in the design world today because people in general are more ecologically aware and are trying to make better choices when choosing materials for their projects. Natural materials also allow homeowners to project a more natural, unique feel to their home.
Bamboo flooring adds a particular element of style to any space. It allows homeowners to add a level of elegance to any room. Its appearance is much like hardwood but with a distinctive difference.
Bamboo in general is very durable. Several types of bamboo that have been properly manufactured are as strong and durable as oak. Some types of bamboo are manufactured to be even harder.
Bamboo is also very easy to keep clean and maintain. Regularly sweeping or vacuuming of the flooring keeps it free of debris, and mopping or cleaning it with any non-wax floor cleaner can help keep it clean and shining. Bamboo is also water resistant. This natural material is relatively resistant to staining, warping and water damage.
Much like hardwood flooring, as time passes bamboo flooring can become scratched, marred and discolored. If this occurs, it can be refinished by sanding the surface and applying a coat of finish making the flooring appear like new.
Nothing can compare with the beauty of nature. The distinct grains provide the elegant pattern which is not only unique but can compliment any decor in your room. We offer two colors, natural and carbonized (darker brown), in matte finish. We also offer unfinished planks which can be stained in any color of your choice.
Natural bamboo flooring is very durable. It is 13% harder than red oak and 50% more stable than maple. Prefinished bamboo planks are treated with aluminum oxide and UV cured acrylic urethane which is resistant to water, mildew, insects and wear.
Cork Flooring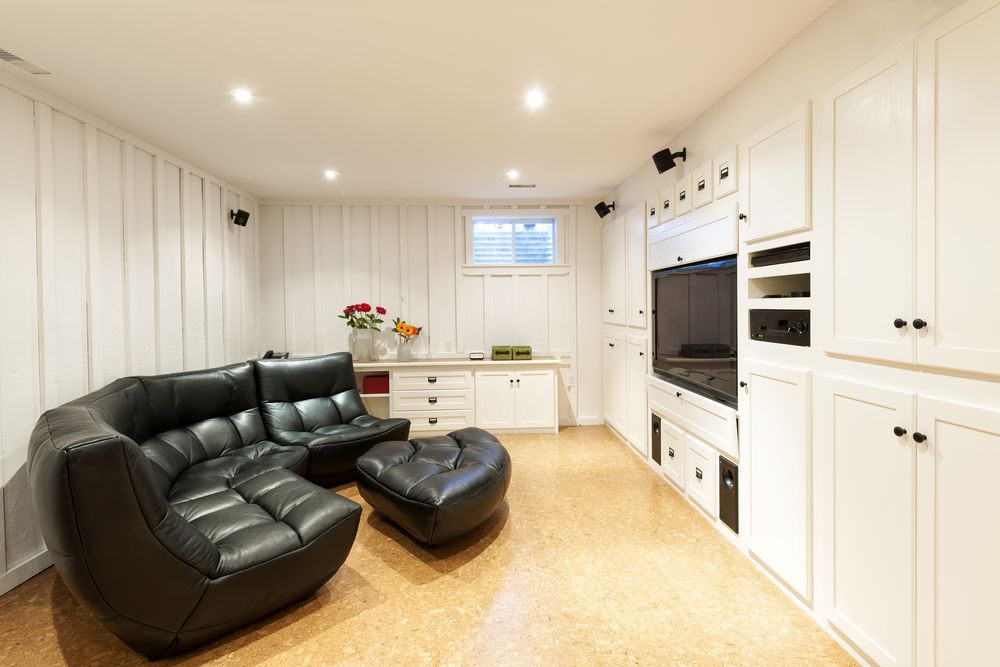 Cork flooring is a great choice homeowners that are looking for something different than just standard carpet or hardwood. The environmentally green material is becoming more and more popular due to the fact that it is made from the bark of the tree. Along with being uniquely beautiful, cork flooring will make you feel like you are walking on air. The springy and soft material would be ideal for a child's room or play room, or any room where you want to be comfortable walking barefoot. Not only is cork flooring soft, but it also an insulator, meaning that you won't have to wince when your bare feet touch the cold floor in the morning. It also serves to provide your home with sound insulation, so with the ability to absorb noise, you can keep the sounds of the other rooms in your home where right where they belong. When you choose cork flooring, Murray Flooring & Window Coverings team members will install it for you in a timely manner. Cork flooring is relatively simple to install so you don't have to worry about a lengthy and inconvenient installation process.
Cork flooring is a healthy choice and good investment that, if properly maintained, will last for generations. Comprised of a renewable natural material, cork is environmentally friendly as well as providing improved health and comfort for human indoor living. In our homes, cork floors create a warm, comfortable, resilient surface that is gentle underfoot, and is also anti-microbial, Cork flooring is also a safe natural material. If your have small children living in your home, you know that safety is always number one. These floors will tame a fire before it spreads to a bigger problem that can't be easily tamed. It will also not spread flame, and is inherently resistant to molds, mildews, and common pests such as termites. Give us a call today to schedule your free in home shopping.
Wood Floor Inlays
Choose the perfect wooden floor accent for your home or business. Our genuine hardwood floor inlays offer a distinctive, signature design to display your personal taste and style.Borders, medallions and parquet begin with the finest hardwoods available. These woods are then machined and cut to precise tolerances using either precision woodworking saws or laser technology. Individual hardwood pieces are then hand-assembled into a work of art for your floor. In addition the installation techniques are easy.
Natural Wood Inlays
Wood inlays incorporate a variety of woods chosen for their unique characteristics and natural design. Natural wood variations are coordinated into each design for consistency in visual appearance. Similar grains are chosen to allow for expansion and contraction. Stains and dyed wood also help create a distinctive look. Ask our designers about specific wood preferences and areas where high traffic may be a concern.
Hardwood Border Inlays
Enhance your wood flooring with a unique hardwood border inlay. Borders and corner pieces help set apart seating areas, room spaces and create a beautiful, luxurious look. Our flooring experts can help you create the perfect border for your home.
Medallions
Floor medallions are the perfect finish for your hardwood flooring or parquet floor. We offer a variety of styles, colors and materials. Our medallions come in a variety of colors, shapes and sizes.
Parquet Flooring
Parquet wood flooring is a spectacular take on traditional hardwood floors. Wood parquet is available in a multitude of modern patterns as well as classic European designs including Herringbone. Choose a solid Parquet floor or add distinctive borders for a unique look.
Wood Flooring Inlays in Billings, MT
Murray Floor and Window Coverings can help you with design and installation of your wood flooring inlays. Our flooring experts can work closely with you to ensure that your flooring dreams become a reality. Quality wood inlays are designed with attention to every detail and installed with the latest technology. The end result is a floor of distinction. Upgrade your style or display your brand with a unique customized wood-flooring inlay. Stop by our showroom in Billings, MT to speak with a design consultant today or call for an on-site or in-home consultation. We look forward to helping you create beautiful flooring for your home or office.