Interior plantation shutters are the new trend in style. When it comes to choosing a color or finish for your plantation shutters, the overall décor of your room needs to be accounted for in your decision. Because of their high quality materials Hunter Douglas plantation shutters will remain in your home for years and years to come, so making sure you choose the right color or stain for your shutters is very important. Here are a few tips to help with this troublesome task of matching your shutters to your decor.
Classic White
The first color option for you shutters is traditional white. Every style of Hunter Douglas plantation shutters, Heritance®, NewStyle™, and Palm Beach™, comes in this color. White or off-white plantation shutters will give your home an airy, bright feel. Light paint colors on your plantation shutters are well suited for kitchens and bathrooms, but can easily be coordinated to work in another area of the home. When choosing white for your plantation shutters know that your room will appear much brighter than with darker paint colors or stained wood shutters.
Though many people associate white shutters with beach homes, with bright fabrics and minimal decorations, white shutters also look wonderful in contemporarily decorated spaces because they will not draw attention away from the décor of the room.
Light Stains and Paint
If white shutters are a bit too bright for your décor, another great option is shutters with a light to medium stain or lighter paint colors. A light stain will give your home more of a structured feeling, diluting some of the light source that comes in from the outside, making the room slightly dimmer than that of a room with all white shutters. When choosing a stained shutter, make sure the stain is similar to that of any other hardwood in the room.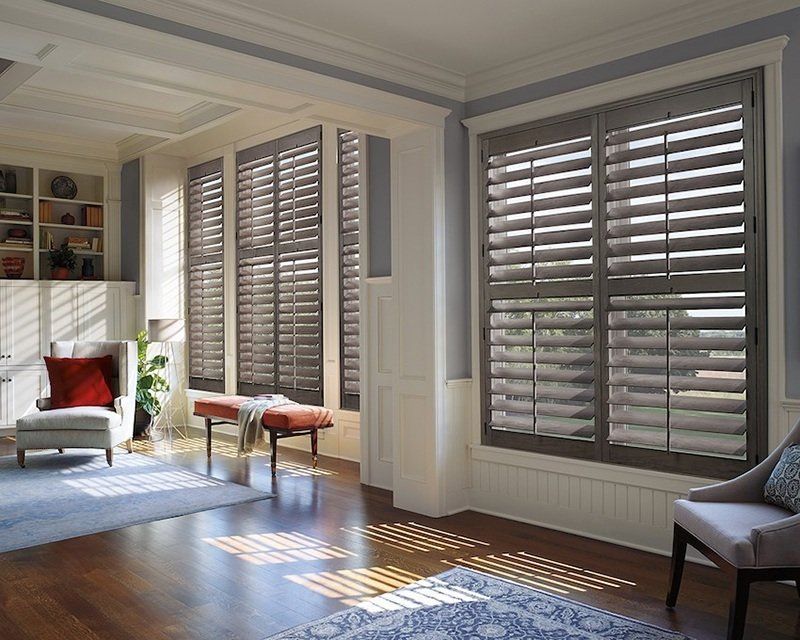 If you are going for a painted shutter, make sure the color is an accent color to the theme of your room. This will lead to a beautiful overall appearance, making your windows pop, while at the same time keeping your theme consistent. Show off your shutters and avoid other window furnishings, like draperies or valances, so the shutters are the main focus of your window.
Dark Stain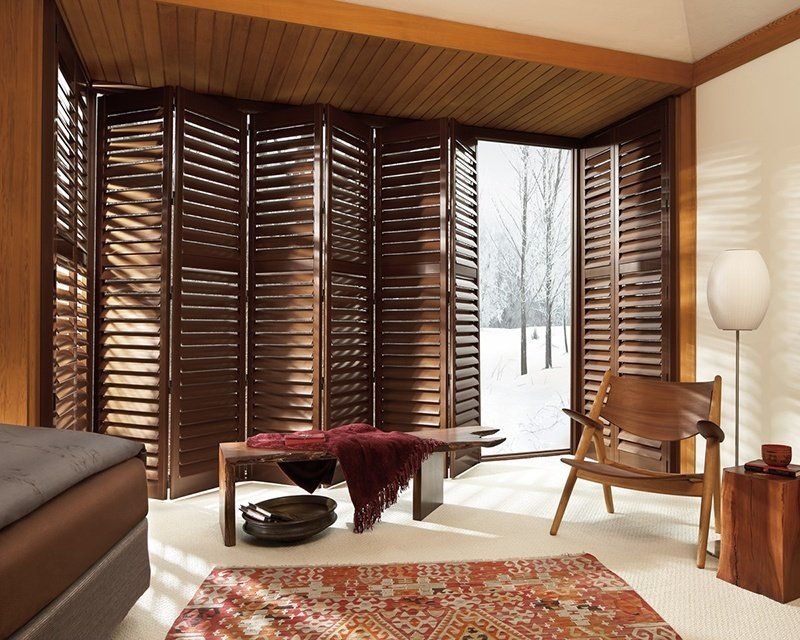 Similarly to a light stained wood, a dark stain on your shutters will allow for a higher amount of light diffusion than with white or lightly painted shutters. However, while the light source will be lessened, dark stained shutters will draw even more attention to your windows.
Bold and sophisticated, dark shutters make for a statement piece in a room. If you already have other hardwood pieces in the room, a dark stained shutter will significantly deepen the color of the room if these pieces are also stained dark. Dark stained shutters will flow nicely with other dark stained pieces, but if you have lighter stained pieces, the dark stained shutters will accentuate them. Light and bright colors will excellently accent dark stained shutters, so if your décor is colorful, these could be a great choice.
If you are still unsure, let us show you what color or stain will look the best in your home with a free In-Home Shopping Appointment, where we bring the products to you. Call today to schedule an appointment and let Murray Floor & Window Coverings help you pick the best plantation shutters in Billings, Montana.
Shutter Resources: