Classic, Timeless Look
Plantation shutters, rather they be the Hunter Douglas' Heritance® hardwood shutters, NewStyle™ hybrid shutters, or Palm Beach™ polysatin shutters, give your home timeless charm. While window fashions and styles of blinds and shades have expanded and grown with multiple styles over the years, plantation shutters have not changed much in their overall appearance. While their construction has improved, utilizing new construction techniques, new finishes, and new materials to make them more durable, the overall look is similar to that of early plantation shutters.
Ease of Cleaning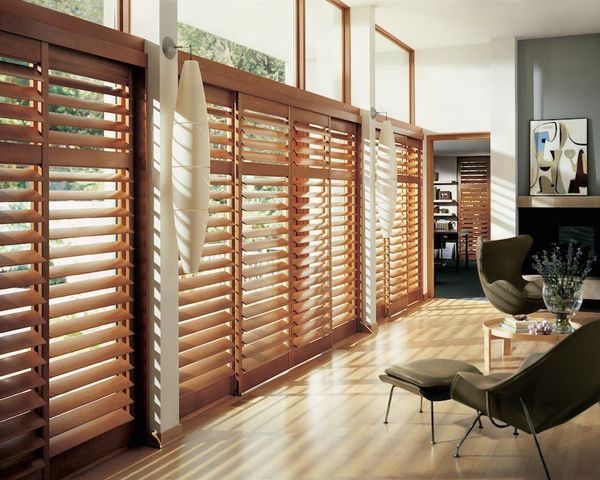 Cleaning plantation shutters is incredibly simple. Because of the finishes used on all of the Hunter Douglas plantation-style shutters, dirt and dust does not adhere to the surface of the shutters, making for an easy clean, saving you time and effort.
Hardwood shutters should be cleaned with as little moisture as possible. A dry dust rag or a vacuum will suffice to remove all the dust. If moisture is needed for anything dried on to the shutter, water or a gentle wood cleanser in very small amounts will do the trick. Just make sure the shutter is completely dry after you have cleaned it, and your shutters will maintain their beauty.
Synthetic material or synthetic material-hardwood combination shutters need a little less hesitancy when it comes to cleaning. The finishes are much less delicate than that of the hardwood shutters and can therefore be cleaned with any cleaning product, as long as it is wiped dry afterwards. Because the stains and materials used are so durable, you do not have to worry about ruining the finish, stain, or paint color of your plantation shutters whilst cleaning them.
Additional Value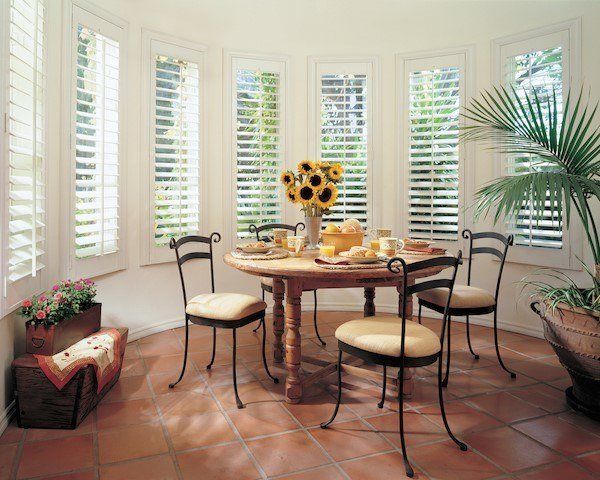 Plantation shutters are permanent fixtures in your home. They are attached to your window frames and will stay with your house forever without much need for repair or replacement. If or when you sell your home, plantation shutters will increase its value because the window treatments do not have to be reinstalled for the next owner. Plantation shutters are permanently mounted to your windows and thus, stay with that window until they are removed entirely.
In addition to adding to the resale value of your home, plantation shutters will also save you money in cooling costs because of their energy efficiency. Because shutters are easily adjustable, opening wide or shutting tightly when adjusted, they are very helpful in controlling outside temperatures from affecting the internal temperature of the house. In the summer when it is warm, the shutters can be closed entirely, keeping the house much cooler than with traditional blinds because the window is fully covered. If more light is needed in the room, the shutters can be adjusted to let in natural light without being fully opened.
If you are looking for plantation shutters in Billings, Montana, Murray Floor & Window Coverings is here for you. Our experienced team can help you choose the perfect style of plantation shutters. Let our experts guide you through your decision with our free In-Home Shopping Appointment so you can see our products in your own home, to decide what fits the best.
Shutter Resources: